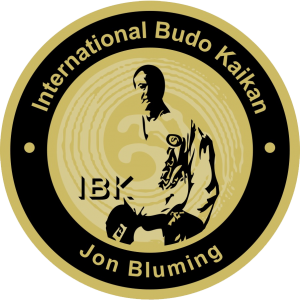 What is it?
The Kokusai Budo Kaikan (also known as the International Budo Kaikan – IBK) came into being to encompass the fighting philosophy of our Founder (Kaiso) Jon Bluming (1933-2018). The name Jon Bluming is synonymous with the word legend. His pragmatic philosophy came from his wartime hardship under Nazi rule, and as a decorated marine in the Korean war. Unlike many other martial arts founders, Jon Bluming was a man who's understanding of real fighting was forged in the fires of actual combat. This allowed him to create a unique martial art with its roots fusing Kyokushin Full Contact Karate and Judo, to form one of the world's first mixed martial arts system. Historically, Jon Bluming Kaiso began training in the martial arts before it became the worldwide phenomena today. His system, Kyokushin Budokai was years ahead of its time and he realised he needed to create a forward-thinking organisation that would embrace his system and philosophy. In 1980, he formed the IBK, and became its lifelong President (Kaicho).
What can it offer you?
Kokusai Budo Kaikan is the only organisation founded by Jon Bluming Kaicho. While there are others that claim lineage, this is the true organisation and the only one that follows his teachings. If you are accepted, you will become a living part of Budo history. The world-wide organisation will allow you to train with some of the greatest teachers of Kyokushin Budokai in the world. Many of these teachers are also highly skilled in other martial arts, and regular camps allow a flowing of information and skills to refine, or add to the IBK knowledge base. As a member of the IBK, you have world wide access to all camps, clubs, and competitions. It's like having another home throughout the world! If you currently run your own club, or organisation, and are looking for an organisation that places you at the heart of your decision-making, then contact us and see what we have to offer.